20 Oct 2023
The electric car has become synonymous with modern motoring for many of us. Is this really the case, or are there no other solutions? Published in April 2023, the Regulation of the European Parliament and of the Council (EU) 2023/851 […] regarding the strengthening of CO₂ emission standards for new passenger cars and for new light commercial vehicles, in practice forces manufacturers to stop producing so-called emission cars by 2035. So, what to do instead? Today, the obvious solution is an electric car. I won't cover the issues related to such cars in this article, as they are quite well covered in the media. Here I want to focus on another, less well-known solution, which is a hydrogen-powered car.
Advantages and disadvantages
There are two technologies for automotive hydrogen propulsion: hydrogen combustion (ICE) and hydrogen electric cells (FCEV). Direct combustion of hydrogen in an internal combustion engine (on a similar basis to the combustion of natural gas, for example) is a technology that is still in the development stage, although trials of it have been going on for nearly 20 years. Currently, research into the hydrogenation of the internal combustion engine is being carried out by a number of automotive manufacturers such as Toyota, Ford, Deutz and the American Cummins. The latter has succeeded in modifying a 15-liter engine adapted to burn CNG – to hydrogen, without losing its efficiency. The second technology is the use of hydrogen cell energy in vehicles with electric engines.
Advantages of hydrogen cars:
Long range (about 500 km on a single charge).
Quick refueling (about 5 minutes).
Zero-emission.
Small batteries (using less lithium).
Lighter overall vehicle weight (a full tank of hydrogen is only 5 kg).
Disadvantages of hydrogen cars:
Low energy efficiency (estimated 38% compared to 73% for electric cars and 15-20% for combustion cars).
Lack of infrastructure (one publicly available station in Poland, others in plans).
Price of the car (about $78,000).
Size of the car (must additionally accommodate electric cells).
High cost of obtaining hydrogen.
It is worth noting that when Toyota Mirai is driven calmly, hydrogen consumption is in the range of 0.9 kg per 100 km. Considering the above data, when the price of 1 kg of hydrogen is $16.39, the cost of driving 650 km (one refueling) will be just over $95.
How it works.
Hydrogen cells are used to generate electricity and power an electric motor with it. Electricity is generated by a process we've known for more than 200 years, and that is the reverse electrolysis of water.
In the nutshell, it looks like this: you drive up to the refueling station under the dispenser (similar to how it works for LPG refueling) and fill the tank with hydrogen. Then:
The hydrogen goes into the fuel cells.
Hydrogen ions pass through a polymer membrane toward the anode.
A reaction takes place in the cells, combining hydrogen ions (protons) at the anode with oxygen at the cathode.
When hydrogen combines with oxygen from the air, water is formed.
The flow of electrons between the electrodes produces electricity, driving an electric motor and charging a battery.
Schematic of the construction of an alkaline fuel cell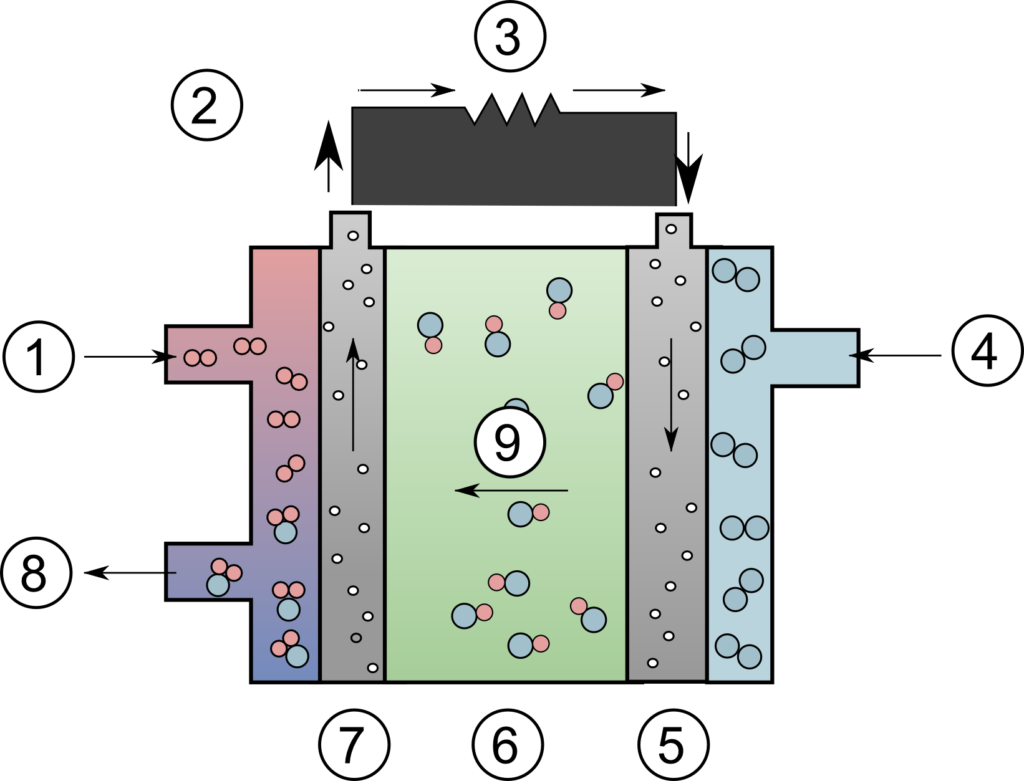 1 – hydrogen, 2 – electron flow, 3 – charge (energy receiver), 4 – oxygen, 5 – cathode, 6 – electrolyte, 7 – anode, 8 – water, 9 – hydroxyl ions
To refuel, but where?
Hydrogen cars available on the Polish market are Toyota Mirai II and Hyundai Nexo. Unfortunately, these are expensive cars – they cost about PLN 300,000. If we already decide to buy one, we will face another challenge – where to refuel?
The project of the Polish Hydrogen Strategy in Poland until 2025 assumes a budget of PLN 2 billion for the development of hydrogen infrastructure, with 32 stations to be built in major urban areas. This will allow hydrogen-powered cars to travel seamlessly throughout Poland.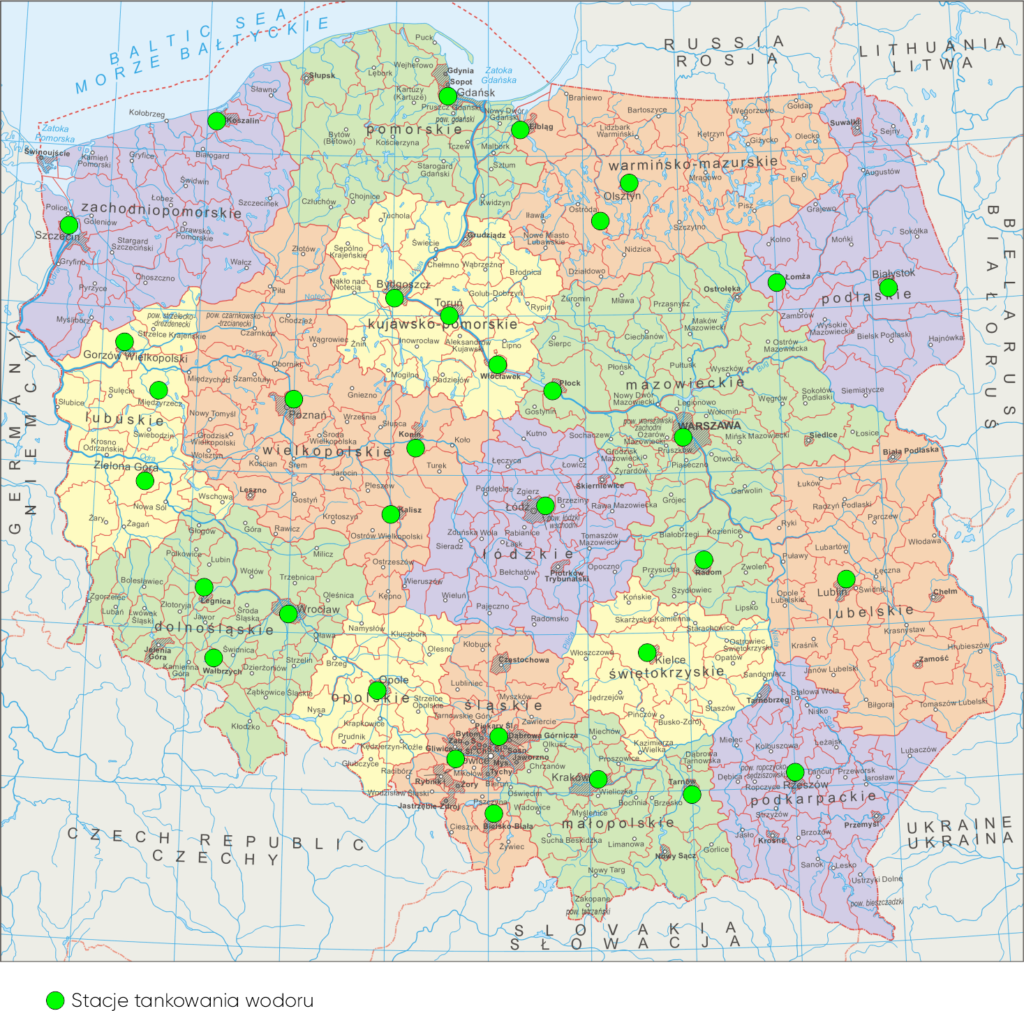 According to the Ministry of Climate and Environment, the distribution of hydrogen refueling stations could look as follows (map). Thirty-four station locations, eight starting city hubs were taken into account, and the basic condition was that the permissible distance between refueling stations could not exceed 200 kilometers.
The first publicly accessible hydrogen refueling station in Poland was opened in September 2023 in Warsaw. It is owned by PAK-PCE, while Orlen will still make four stations available in 2023: in Krakow, Katowice, Poznań and Włocławek. Seven more are planned: in Walbrzych (by 2024), and in Bielsko-Biala, Gorzow Wielkopolski, Krakow, Pila and Warsaw by mid-2025. In addition to Orlen, investors in the station network also want to be:
Przedsiębiorstwo Komunikacji Metropolitalnej (Silesia),
PAK-PCE Stations H2,
Polenergia Elektrociepłownia Nowa Sarzyna,
Promet-Plast.
There are already 163 hydrogen stations operating in Europe, with another 46 under construction.
The European Automobile Manufacturers Association (ACEA), which brings together 14 of the largest manufacturers of cars, vans, trucks and buses, estimates that at least 300 hydrogen refueling stations should be built in Europe by 2025, and at least 1,000 by 2030. The proposed distribution of the stations can be found in the maps below.

The direction of change in the development of the automotive industry is clear, so it is worth considering whether to wait and choose a hydrocar instead of an electric.
Regardless of your decision, I wish you that we shift to zero-emission cars as soon as possible and take care of the environment together.
Author: Dr. Adam Górniak – long-time manager in the automotive industry, trainer and consultant
List of sources:
https://www.gov.pl/web/klimat/rozpoczely-sie-konsultacje-publiczne-projektu-polskiej-strategii-wodorowej
https://www.gov.pl/web/klimat/propozycja-rozmieszczania-ogolnodostepnej-infrastruktury-ladowania
https://www.toyota.pl/porady/silnik-wodorowy-fakty-mity
https://www.acea.auto/figure/interactive-map-truck-hydrogen-refuelling-stations-needed-in-europe-by-2025-and-2030-per-country/
https://ceenergynews.com/hydrogen/orlen-signs-eu-deal-for-new-hydrogen-stations-in-poland/
https://motofocus.pl/elektromobilnosc/108251/wodor-w-motoryzacji-mozliwosci-i-ograniczenia
https://www.cummins.com/engines/hydrogen
https://devil-cars.pl/blog/samochod-na-wodor-jak-dziala-ile-kosztuje
If you want to learn more about hydrogen propulsion or have decided to cooperate with us, please contact
contact us! Below you will find contact details of our expert:
Bartłomiej Szybecki
Key Account Manager
+48 884 311 422
bartlomiej.szybecki@sgpgroup.eu